ClickFORMS Software and Updates
NEW Customers — ClickFORMS Free Trial
Try ClickFORMS Free for 15 days
Fully Functional Trial Allows You To Evaluate and Submit an Appraisal Report
Discover all the efficiency and productivity that's possible when the appraisal software you're using is simple and intuitive. Easy to use doesn't mean that ClickFORMS lacks the features you want and need. Sophisticated features are built right into ClickFORMS. Try all the time-saving features of ClickFORMS and get free technical support for 15 days — no hassle, no risk, no obligation! An AppraisalWorld account is included in your free ClickFORMS evaluation.



•

Evaluate all the time-saving features and services in ClickFORMS


•

Free Location and Flood maps included


•

Take Inspect-a-Lot, the iPad mobile app into the field


•

Technical support and training included free in your trial


Registered Users — ClickFORMS Update
When ClickFORMS has a new release, your software will prompt you to update automatically. However, some will choose to update ClickFORMS at a later time. If updating ClickFORMS manually, simply click the

"Help"

tab from the main menu, then select

"Check For Updates"

.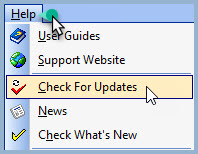 Registered Users — Download New Install
Sign In
to your AppraisalWorld account. Click on "
ClickFORMS Desktop
" from the "
My Desktop Software
" section.

ClickFORMS Canadian — Pro Edition
Try ClickFORMS Canadian Free for 15 days.
ClickFORMS is known for its ease of use, reliability and industry innovation. We're applying that same hassle-free approach to our cloud-based appraisal form-filling application. Many appraisers in Canada are already familiar with ClickFORMS Canadian and love the intuitive approach that's simple, yet powerful. Now all Canadian appraisers can experience ClickFORMS Canadian with our new, free to use, easy-to-complete online appraisal software. ClickFORMS Canadian Online is the perfect companion to ClickFORMS Canadian Desktop.


ClickFORMS Student Edition
ClickFORMS Student Edition — $49.00

Designed for Real Estate students to learn about the appraisal process and how to fill out standard appraisal forms. ClickFORMS is the industry's most intuitive and easy-to-use appraisal software so that you can complete your valuation assignment without the frustration of having to learn new software. While ClickFORMS is easy to use, professional appraisers use it everyday to complete a variety of appraisal reports.


Sign up with AppraisalWold to order:
1.
Go to www.AppraisalWorld.com and register as a student.
2.
Go to the store and purchase ClickForms for Students.
3.
Access to ClickFORMS Online Student edition is available in My Office in AppraisalWorld.
ClickFORMS Mobile Inspection App
We spent a lot of time evaluating the field appraisal process. We watched appraisers tap, tap, tap and tap again for some basic functions and knew there was a better way. By gathering only needed information in a streamlined and organized fashion, the new and innovative Inspect–a–Lot app from Bradford Technologies concentrates on field inspection data capture which allows you to complete your work faster and easier.

Search "Inspect a Lot" from your iPad's App Store.
Sketching software for ClickFORMS
ClickFORMS is optimized to work with the industry's leading sketching programs, seamlessly integrated so that data and images populate ClickFORMS reports.
Apex Sketch for ClickFORMS
We know sketching... Apex Software has been the industry leader in floor plan sketching for over 30 years and we continue to deliver ground breaking technology built to match your workflow. Whether you're new or an existing client, our intuitive designs are developed with you in mind. With each of our sketching products, we strive to minimize the learning curve by maintaining familiar interfaces and functions to smooth your transition or create a positive first-time experience.


To Purchase, call 1-800-622-8727 x301
AreaSketch for ClickFORMS

Designed specifically for field professionals required to draw an accurate sketch and calculate area square footage and perimeter values, AreaSketch stands alone when compared to existing sketch solutions. FreeForm Technology™ allows users to draw any sketch. As data is being gathered, new areas can be created on the fly without having to finish the first area. Switch drawing directions with Bi-Directional Drawing, placing a label, or other types of annotation is completely FreeForm.


To Purchase, call 1-800-622-8727 x301
RapidSketch for ClickFORMS
RapidSketch was built from the ground up to change the way Real Estate professionals looked at sketching. Instead of having tons of redundant features, RapidSketch has a few simple tools that can do it all. All Area Templates, Symbols, and Stock Label Libraries can be customized to fit your needs, and then backed up in the event your hardware fails. RapidSketch technology has raised the bar and made huge waves in the valuation industry, so check it out today.


To Purchase, call 1-800-622-8727 x301